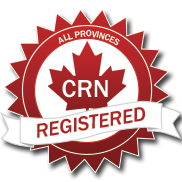 Foreign Certification, CRN
CRN (Canadian Registration Number) is a registration process that involves the careful review of a manufacturer's equipment design by responsible provincial engineers.
Our EH30, EH40, EH50, EH70 Series, the EX30, EX40 Series and the ER Series (up to 3") are now all registered for purchase and use in all Canadian Provinces. Contact us if you need a CRN on a product or province not found here.

Download the EH70 CRN Registration form (All Canadian Provinces)


Download the ER Series CRN Registration form (All Canadian Provinces)


Download the ER 3-Way CRN Registration form (All Canadian Provinces)


Download the EH30, EH40, EH50, EX30 & EX40 CRN Registration form (All Canadian Provinces)